In this guide, you'll learn about the HubSpot products and enhancements that are new for 2018, making it the most powerful growth tool for businesses of all sizes.
Included are examples of how to use these new products, plus some tips on how you can leverage the new tools the minute you're done reading this article to drive growth for your business.
Inbound 2018 HubSpot Product Preview...
The Inbound 2018 conference in Boston, MA, has been filled with excitement around HubSpot's new product reveal.
Some notable new HubSpot product features released this year include:
Enterprise Growth Suite
Service Hub Starter
HubSpot Video
Standalone CMS
I'll also include what's new to the Hubs you already know and love such as:
HubSpot CRM
Marketing Hub
Service Hub
"The needs of a business change dramatically as it scales. Our mission at HubSpot is to create a comprehensive platform that starts free and grows with you over time, so you can focus on what's most important – acquiring and delighting customers," JD Sherman, President, and COO of HubSpot.
Subscribe to become a Manage Inbound Insider and stay informed on the latest HubSpot product announcements and tips on how to use the new tools.
2018 HubSpot Product Guide
Introducing the Enterprise Growth Suite
The HubSpot Enterprise Growth Suite is one of the most significant product updates, and it looks very promising for the support of large, sophisticated teams. There's something new here that every company, regardless of size, can use to their advantage.
The new Sales Hub Enterprise will include features like Sales Playbooks, which will help users build a library of resources and ideal practices for their team. Other features include eSignature, quota management tools, and calling transcription.
The new Service Hub Enterprise will feature tools to track against metrics like SLAs as well as others.
A massive upgrade to the Marketing Hub Enterprise will feature improved analytics and the ability to program custom bots.
More updates (that I'll get into below) will be available across all three Enterprise Hubs. These features are available as of September 5th, with some other additional features like advanced content partitioning and workflow extensions, to be released in the coming months.
Now, on to what you've been waiting for...
Custom Slack Notifications- keep your team connected

With this integration, you can trigger notifications in Slack (based off of conditions and triggers in Workflows...I'll get to this below). An example could be notifying your teams when a deal is closed.
Custom Events- defining customer analytics events

Use this to track specific actions on websites or in mobile apps and use those events to build funnels and segment your contacts by engagement or activities. You can keep track of metrics like clicks, page views, or other interactions.
Single Sign-on- enhance the security of your account

This new feature allows clients to develop one set of credentials to use to log in. It can help you gain more control over your team's access by configuring a custom authentication provider, and it works with services such as Okta, AZure Active Directory and OneLogin.
Teams- control without feeling like a freak

In teams, you can organize users into your HubSpot account on multiple levels based on teams, regions, business unit product line, etc. This feature is great because you can control user's access to tools, limit visibility in your database, or roll up custom reports all to organize your teams and ensure efficiency on both ends!
Workflow Extensions & Webhooks

Use this function to trigger actions and pass data to other tools you use or your team's custom, outside applications. This feature is an awesome place for your developers to shine with integration through tools like Slack or SMS.
Custom Bots- use AI to your advantage

Through Webhooks or inline code, users can deploy useful bots that can assist with simple requests like surfacing relevant help documentation, routing inquiries to the right team, booking appointments, and much more. The cool part with this update is that the bots can do so much more; you can use custom code like Python or Java to handle virtually any type of inquiry.
Predictive Lead Scoring- automatically scores and ranks leads so you don't have to

This tool isn't new, per se, but it's an improvement in Marketing and Sales Enterprise (don't worry...you're grandfathered in with Sales Pro if you have it there).
The ranking is based on lead's likelihood to close as customers, factoring in hundreds of behavioral, demographic, firmographic, and technology factors.
Calculated & Roll Up Properties

This new feature is in The Marketing, Sales, and Service Enterprise. Use it to create areas in HubSpot that perform useful calculations and roll up data for other fields like sales commissions and splits.
Recurring Revenue Tracking- harness the power of rapport building in sales success

This feature is new in Sales Enterprise. It allows users to manage recurring revenue and renewals right inside HubSpot and drive revenue. It also features improvements to revenue tracking and reporting too.
Additional Reports & Dashboards- supercharge your HubSpot reporting

New to Marketing, Sales and Service Professional and Enterprise. If your company uses HubSpot Professional, you get one dashboard with up to 10 customizable reports. If your company uses Enterprise, you get 25 dashboards with up to 500 custom reports.
Want more space? Don't worry, HubSpot thought of that too. If you need more custom dashboards/ reporting capacity, you can use this add-on as well.
Complete Sales Software- without any complexity attached

This new suite combines HubSpot's powerful CRM and all of its sales tools to bring you sophisticated sales motions and keep your deals moving forward. With automatic call transcription, integrated sales playbooks, seamless quote creation, and more; your reps will have everything they need to sell at their best.
Custom Property- more than just a search bar

New in Marketing and Sales Enterprise, this add-on helps unlock data stored in custom properties across your database by making them searchable via HubSpot's global search bar.
Service software- keep your team's goals in check

Use the new agent goals tool to help your team meet your customer's expectations. You can also use health scores (coming soon) to keep track of your most at-risk customers; with notifications and automation, everyone on your team will stay informed.
Relational Imports

Improved in HubSpot's top-rated CRM, this tool helps easily import contacts, companies, deals, tickets, and products with relationships across objects.
Introducing Service Hub Starter
HubSpot will also plan to introduce a new Starter edition of the Service Hub that will offer Tickets, the ability to create a help desk and offer useful tools to increase productivity, connect with customers and help them succeed. Some other features to be released will allow users to:
Build a help desk: You can allow users in HubSpot to turn chats, emails, and form submissions into tickets. These tickets can be managed and monitored to further help and meet your customer's expectations and goals.
Respond to your customers faster: Build a library of email templates, document with existing knowledge, and short-text response snippets.
Service Hub Starter is available for purchase as of September 5th.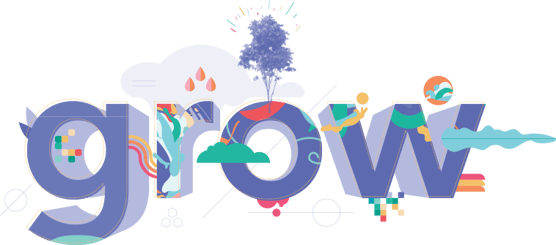 How to Scale Using Enterprise Growth Suite - your one price shopping, handled.
This suite combines sophisticated versions of HubSpot's Marketing, Sales, and Service Hubs plus the top-rated CRM at the Starter, Pro and Enterprise tiers. It is available as a single package, or each can be purchased individually as well. This is great for companies of all sizes and is designed to meet every company's needs. It is also great because it combines the different hubs to get a 25% discount off of the standalone prices for each Hub.
New Tools in Marketing Hub Enterprise to Get Your Company Heard
Content Partitioning- uncluttered and straightforward, the right way

This tool can be used to segment assets in HubSpot, giving the right users easy and uncluttered access to the right content.
It is useful for international marketing teams, and teams segmented across divisions, product lines, brands, or other dimensions.
Additional Domains- all your domains, one place

With Beta version of this tool now available in the Marketing Enterprise Hub, you can host and track multiple sites, micro-sites, blogs, and vanity landing pages across different top level domains.
This tool gives marketers the option to not only purchase additional domains but also manage completely separate brands/domains from a single instance in HubSpot, streamlining your work for not just marketers but your entire company.
Analytics Filtering

This new feature allows users to create analytics segments by the country of the session, domain, or a specific URL structures. This feature is especially helpful for businesses that want to be able to see their traffic data segmented.
Email Frequency Safeguards- avoid blowing up your contacts' inbox!

With this tool, users can set safeguards to avoid over-emailing your contacts in a given period.
The best part is that you can also easily allow high-priority messages to override your safeguards to ensure the right content is getting to your contacts, at the right time.
Enhanced Social Permissions

This new tool in Marketing Hub Enterprise allows users to give individual members of your team the ability to draft posts and move them to a scheduled state for review before they are set to be published.
This application is excellent if you have an intern or interns in the office writing email marketing drafts or other content but also want to keep track of to provide feedback and review.
Facebook Messenger CTAs, Forms, and Contacts - nurture the conversation with leads

New to the Social function, users can run a full inbound funnel using FaceBook Messenger without the need for forms, landing pages, or emails. You can even allow people to agree to subscribe to your brand via Facebook Messenger as well.
CMS Membership

Restrict content access to internal audiences, paying customers, or other groups of people using HubSpot lists. CMS Membership allows customers restricted access to their published pages to specific contacts in their database.
Use this feature to deliver premium content like videos, case studies, and toolkits to their paying customers or registered contacts.
YouTube Integration

View detailed statistics on the performance of video content you've uploaded like subscriber base growth, time spent on videos, and more to focus on what strategies and tactics you need to get found.
Continuous Testing

Automatically and continuously test assets like lead flows with a single click; no need to manually create multiple A/B versions for tests and worry about statistical significance anymore!
Grow Better with HubSpot Video
HubSpot did a great job of listening to its clients with this addition. If your company is looking for a way to create relevant videos and use video tactics that enable sales to win more deals, HubSpot video is exactly what your company needs.
Some new features in this platform include video hosting, a video creation tool, in-video calls-to-action, and much more (which I'll talk about below).
The goal of HubSpot Video is to provide customers the tools to help growing businesses utilize video in a personal, creative, and authentic way.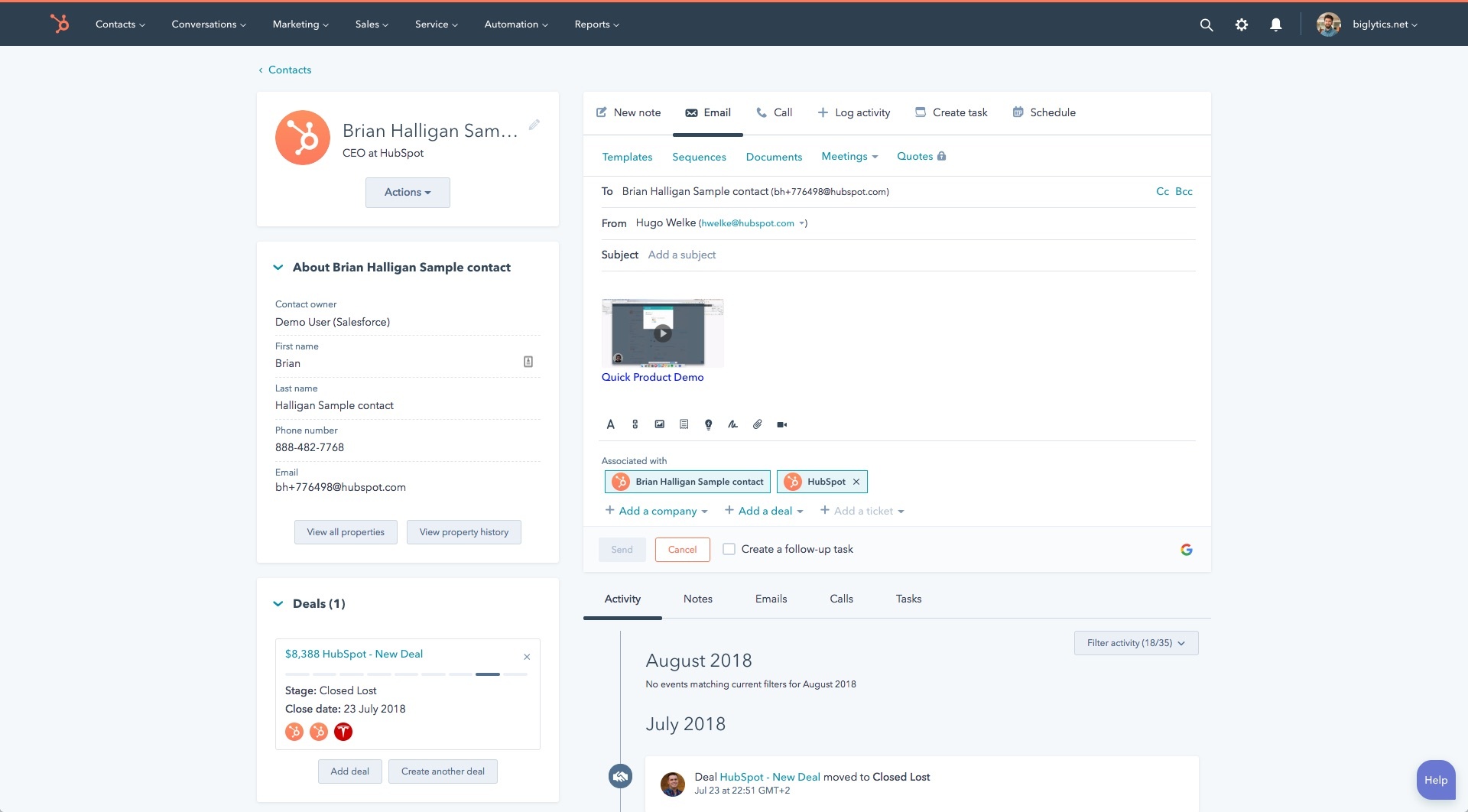 It boasts three add-ons that users can take advantage of with new video functionality built throughout the platform, exclusive to the Pro and Enterprise Hubs.
What you'll get:
Video Marketing
Video Selling
Video Servicing
HubSpot Video is powered partly by Vidyard, which is a HubSpot Connect Partner since 2016. Vidyard's video technology provides hosting and playback, interactive capabilities, analytics, and much more.
HubSpot's new video features are available as of September 5th.
Video Marketing- maximize your digital impact
Marketers can now host and manage video files inside of HubSpot for free. Users can embed those videos into website pages, blogs, and social media channels with one click and add in-video CTA and forms to make videos more interactive.
It also features tools like video-triggered workflows and a new set of video analytics to help maximize the impact of video marketing campaigns.

Video Selling- drive more revenue with video

With this add-on, salespeople can build stronger relationships with prospects by creating, sharing, and tracking personalized videos right from the top-rated HubSpot CRM.
Video Servicing

Service teams can now help customers faster and more thoroughly with personalized help videos created and shared directly from Service Hub.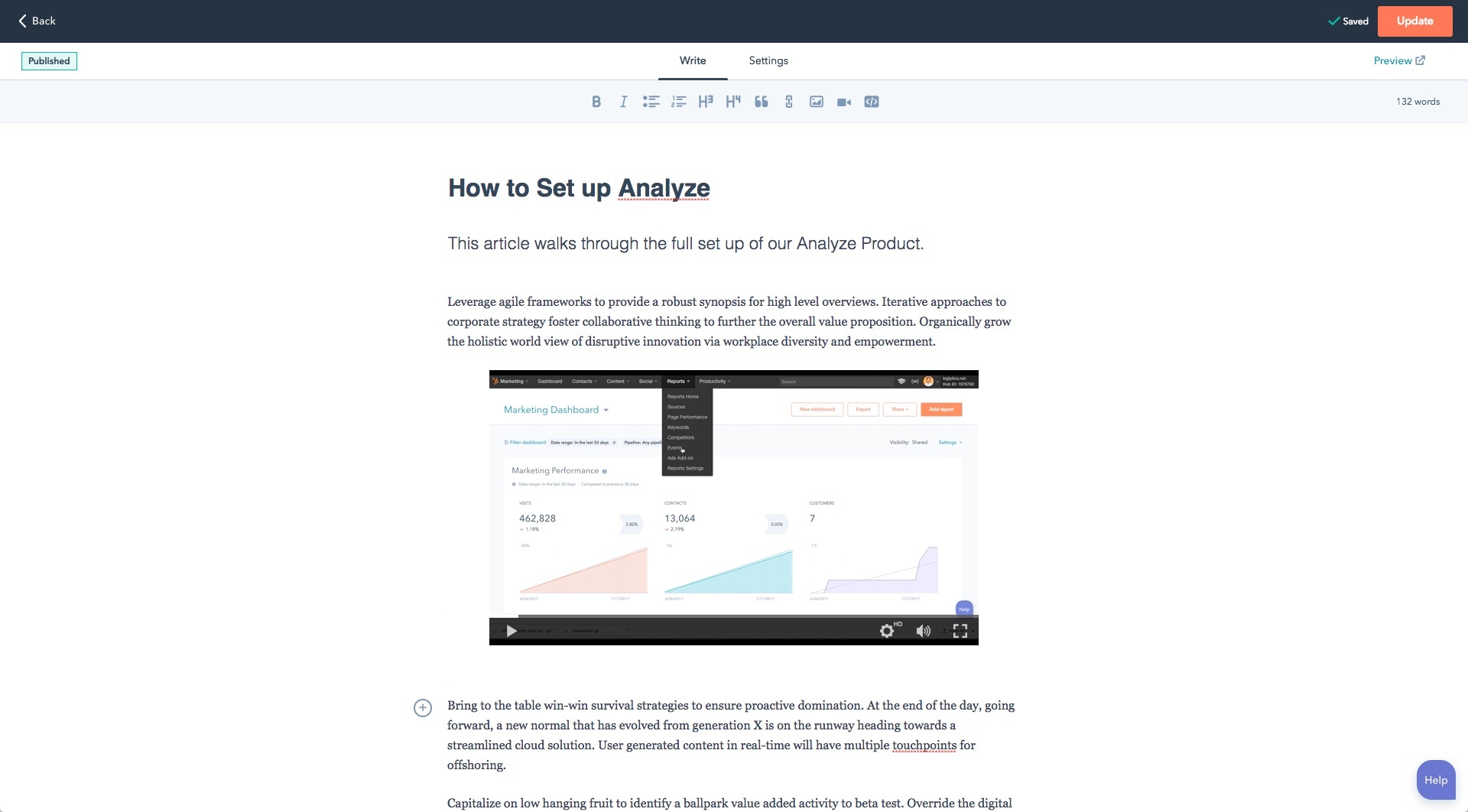 Teams can also embed these videos in their knowledge base and keep track of performance in the new video analytics dashboard.
For example, service agents can record their screen right from a ticket and send to customers, improving service and solving issues faster.
HubSpot CMS - Standalone CMS for Professional Marketers
Let's face it, today your website requires more than just CMS. That's where HubSpot CMS comes in...it has the same features you know and love, just in a new package.
It's a premium CMS for customers to look at buying/growing on the HubSpot path but not ready to purchase the whole package.
HubSpot CMS combines website creation with HubSpot's CRM to truly customize your company's customer experience, streamline marketing and sales, and deliver closed-loop reporting, all in one excellent package. Users will be able to:
Utilize drag-and-drop editors to edit content, designs, and modify page layouts.

Create and personalize every website visitor's experience using smart tools and details stored in the HubSpot CRM. Users also will be able to tailor website content based on each visitor to increase engagement and conversions.

Support a safe, SSL-enabled browsing experience backed by HubSpot's renowned content delivery network to serve the best content worldwide, quickly and reliably.
What you'll get with the package:
Content/ Conversion Tools

Manage all of your content in one place. Create and edit blog posts, landing pages, site pages, and emails easily. You can choose from pre-built templates or create your own. As always, you're backed by HubSpot's world-class content delivery system to send your content all across the world, as fast as possible.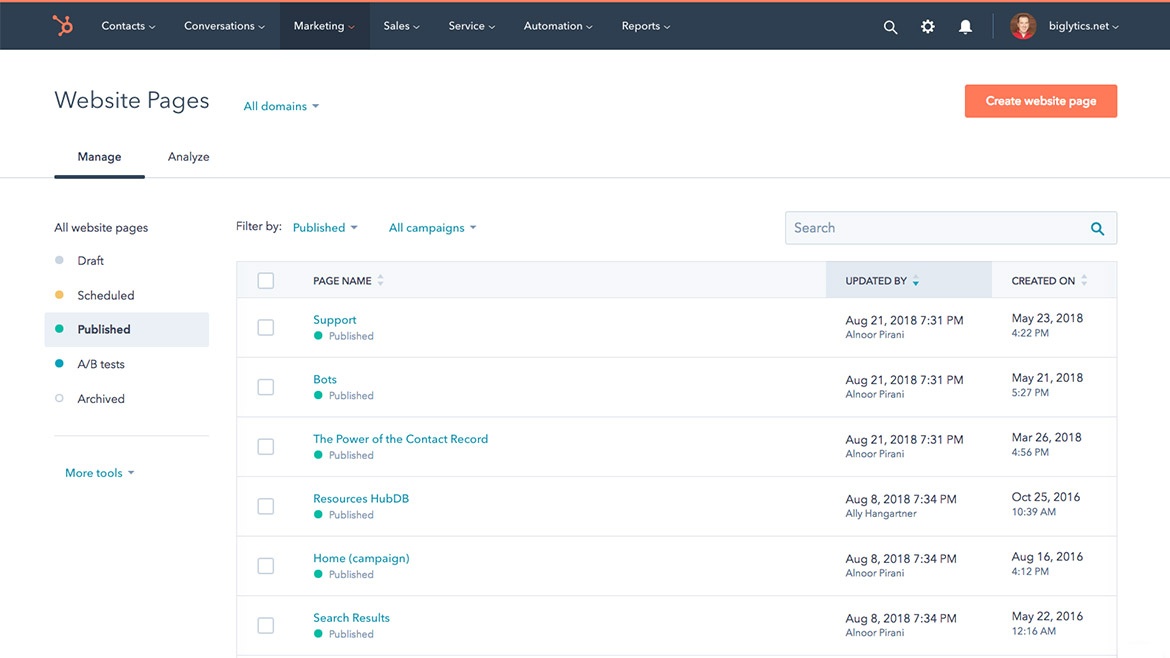 Contacts & Personalization

Tailor your company's content to individual visitors based on location, source, device, language, or by any other detail stored in your HubSpot CRM, from demographic information to your contacts' interactions with your brand.

Even better, you get detailed information about who is visiting your page while you're editing through HubSpot's smart content insights.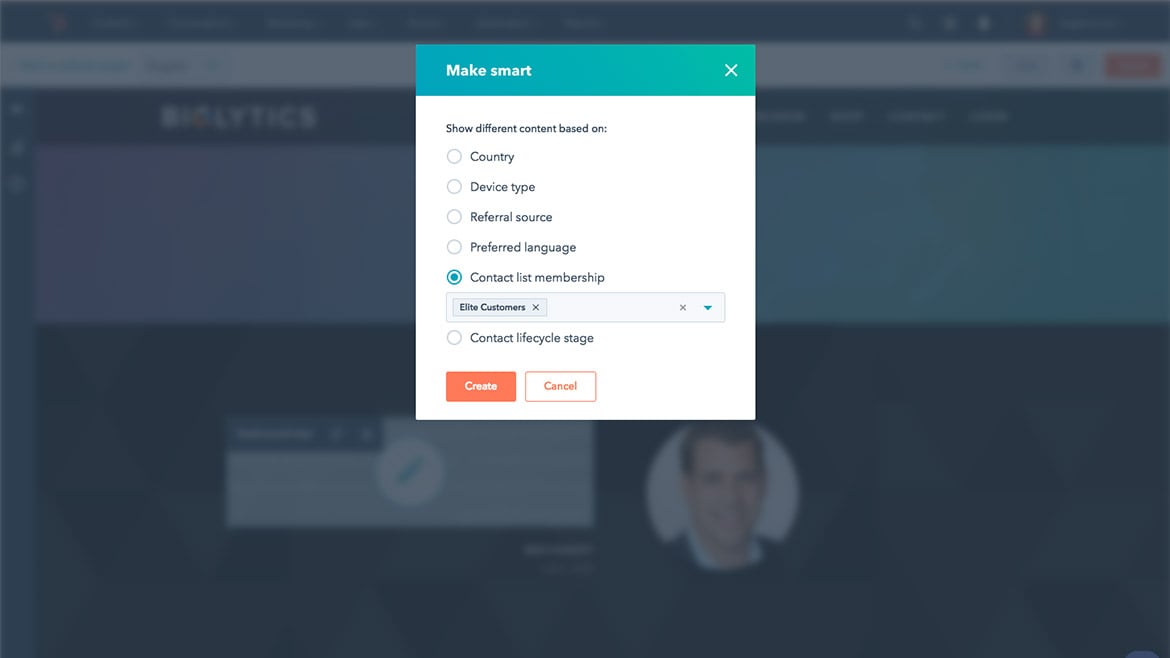 ...and much more including:
Design Tools
Marketplace
Manage
Reporting
This is a great package deal because not only do you get all awesome tools in the tried and true HubSpot CMS, but you get it at a programmatic discount as well.
HubSpot CMS is available for purchase as a standalone product as of September 5th.
What's New - HubSpot CRM
Conversations- Communication with customers has changed. Live chat, team email, and chatbot builder all within one shared inbox streamlines your communication with clients. HubSpot gives you the tools and context to personalize conversations with prospective clients and customers, all for free.
Manage Your Subscriptions- Managing contacts' subscriptions should be easy, right? Before, you had to export contacts, manipulate the data in a spreadsheet, and re-import them. Now, users have the ability to bulk update subscriptions directly in the contacts view in HubSpot so your experience will be the easiest it can be. Learn more about managing your subscriptions in HubSpot here.
Improved Salesforce Integration- Faster, more secure and more flexible version of the Salesforce connector is now available.
Now, your reps can leverage all of your HubSpot data within the new Visualforce to improve their prospects interactions.

To further protect data, all Salesforce users will need a HubSpot login to view data within Salesforce.

HubSpot Intelligence Object is no longer syncing in Salesforce integrated portals and HubSpot is encouraging users to use their standard field mappings instead, which will save you storage within Salesforce, which saves you money.
Imports- Make life easier with the new HubSpot import UI. There are 5 new features to be aware of:
Import Tickets and Products
How does it work?
Go to contacts, companies, deals, products, or tickets

Click the "Import" button

Choose your type of import

Choose the type of object you want to import
2. Import Supports .XLSX and .XLS Files
This provides you with the flexibility to use three different types of files for your imports.
How does it work?
Simply drag and drop the desired file in the designated area.
3. New Ways to Create Lists
Instead of creating a list during the import flow, you now can choose from two new ways to create lists while importing your data.
How does it work?
Build a list on the import index page: Click the "more" button and choose the "view list" option from the drop down menu.

Filter on the import index page: Determine whether or not a contact is in a specific import by applying your desired filters.
4. Easily Segment Your Contacts, Companies and Deals
The import page now has quick links to filters based on the import for contacts, companies, and deals.

This addition will give you a better view into the details of your import and the ability to take bulk actions once your import is complete.
5. Lifecycle Stages and GDPR Settings Have Moved to Contacts
For users with GDPR on, HubSpot has moved the GDPR subscription settings to the contacts view. You don't need to export and re-import contacts to make updates now- instead you can do all of this inside HubSpot.
How does it work?
Use the detailed instructions on contact management here.
What's New - Marketing Hub
This past month, HubSpot has added two new targeting options within the ads add-on: URL based website audiences and Google Ads Audiences. You can create a Google Ads audience so you can get targeted, or you can adjust your bids for specific contacts in search. These additions can help make the difference between your content coming off as intrusive or relevant and helpful in the buyer's journey.
Furthermore, HubSpot has added topic discovery in strategy. It will let users quickly research topics and compare them against each other. You'll also get stats like monthly search volume and difficulty to rank for a specific topic phrase. This will help you make better decisions about the content you will create for clients.
What's New - Service Hub
Customer Support Survey- Now users can target customer support surveys only at tickets in a specific pipeline. This helps ensure feedback you receive is relevant to the customer's experience with your brand.
By using custom ticket reports within HubSpot can help you further rely on it to be your system of record when it comes to analyzing and sharing data among your team.
What Do You Think?
As you can see, there's plenty to talk about here. It's been an awesome year for marketing tactics on the web, and with HubSpot's Reveal at INBOUND 2018, this trend is only going to continue into the new year.
I'm excited to learn more about these add-on's and implement them with my team. What are you most excited to try in this update?
Are you interested in learning more about the inbound way and want proven insider tips sent straight to your inbox? Click here to subscribe to our email newsletter.